Looking at a Hearts On Fire Dream diamond, you may wonder how it is possible to extract such a magnificently cut object from a rough crystal? If the diamond is supposed to be the hardest substance known to man, how do they cut it in the first place?
It generally takes another diamond to cut a diamond, since they are equal in hardness, although in modern times, lasers are used in some stages of shaping finished gemstones out of rough crystals. Diamond cutting is a slow and meticulous process that requires superior skill, mastery, and equipment to get first-class results. Here are some of the steps.
A rough crystal is carefully inspected to determine if it's fit to be cut into gemstones. What is also determined is the number and shape of gemstones it can yield while minimizing waste. The crystal is then separated into smaller parts which can be further processed. This can be achieved with a precise blow of a specialized hammer (cleaving). However, as this technique can result in inaccurate splitting, it has generally been surpassed with other equipment. Rough crystals can now be cut into individual pieces with a laser or a diamond saw. Each piece will become a finished gemstone.
To give the cleaved diamond pieces a more concrete shape, a diamond saw is used. The saw is covered in linseed oil and diamond dust. The oil serves as an adhesive for the dust, and it also gathers more dust in the process of cutting. This step gets the diamond closer to the desired measurements.
This step gives the diamond the desired shape in a crude form. For example, a round, pear, princess, or marquise cut, etc. The diamond is often put into a specialized lathe and cut against another rotating diamond. Lasers and diamond disks are also utilized.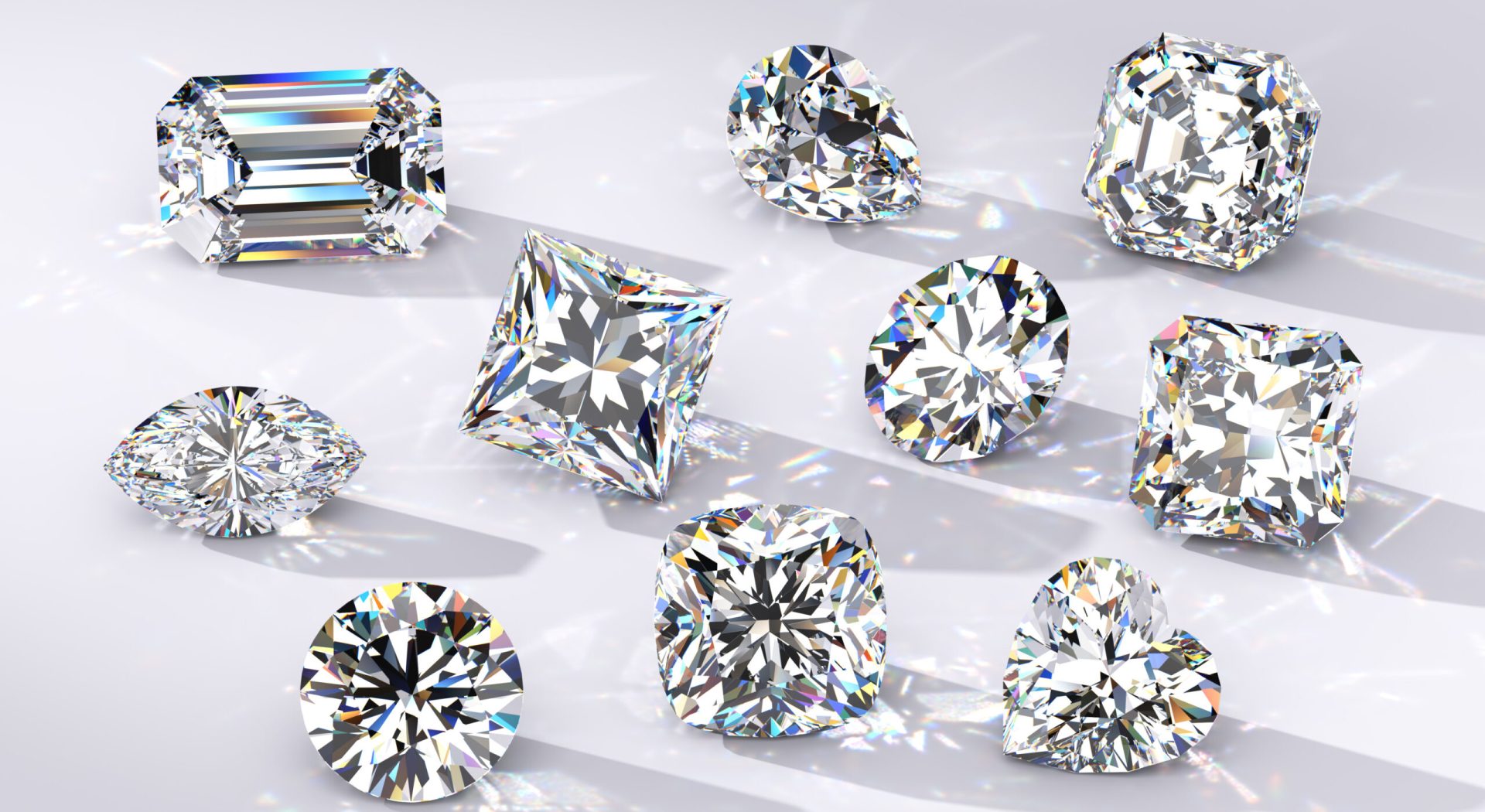 It is this, almost final, step that gives the diamonds the look and allure we know. It is the number and symmetry of facets relative to the overall shape of the diamond that dictates how much light the final product will reflect. Facets are created with equipment and methods like the second step – either with a laser or a blade covered in linseed oil and diamond dust. The final stage involves a thorough cleaning of the diamond in acids.
The quality of a diamond is described using the 4Cs – carat weight, color, clarity, and cut. The relative quality of each diamond establishes its market value as compared to other diamonds, generally based on relative rarity. The Gemological Institute of America (GIA) established a standard grading scale with which to identify each of the 4Cs of diamonds. Some jewelers send their diamonds to the GIA to get a grading report that lists the 4Cs of a diamond. You should always avoid buying a significant diamond without a grading report from the GIA, as without that objective report, the quality of that diamond could be unintentionally (or intentionally) misrepresented and sold for a higher price than the quality would justify.
Hearts On Fire Dream Diamond
Hearts On Fire already boasts the title of The World's Most Perfectly Cut Diamond®. The HOF Dream diamond is a fancy-shaped diamond, which simply means it's not a traditional round cut. It's sometimes difficult to achieve fancy cuts that have the brilliance and fire of a round brilliant cut. However, the HOF Dream diamond has 70 facets and reflects around 93% of light, which is the highest level of reflection achieved in fancy diamond shapes.
What generally sets all Hearts On Fire diamonds apart are these three facts:
They are uncompromising in their choice of rough diamonds. Only 0.1% of the world's rough diamonds are selected by HOF to be processed into faceted and polished gemstones.
Their diamonds are cut only by a handful of master diamond cutters around the world, using only cutting-edge anti-vibration technology.
Their diamonds are cut under a 100x magnification, which is ten times higher than industry standard of 10x magnification, thus ensuring a much more precise faceting and maximizing each diamond's brilliance and fire.
Would you like to browse the largest new and vintage Hearts On Fire jewelry collection in San Diego? Stop by our luxurious showroom on San Diego Avenue and see the difference for yourself. We also offer you exquisite choices in designer jewelry, as well as new, antique, and vintage jewelry!