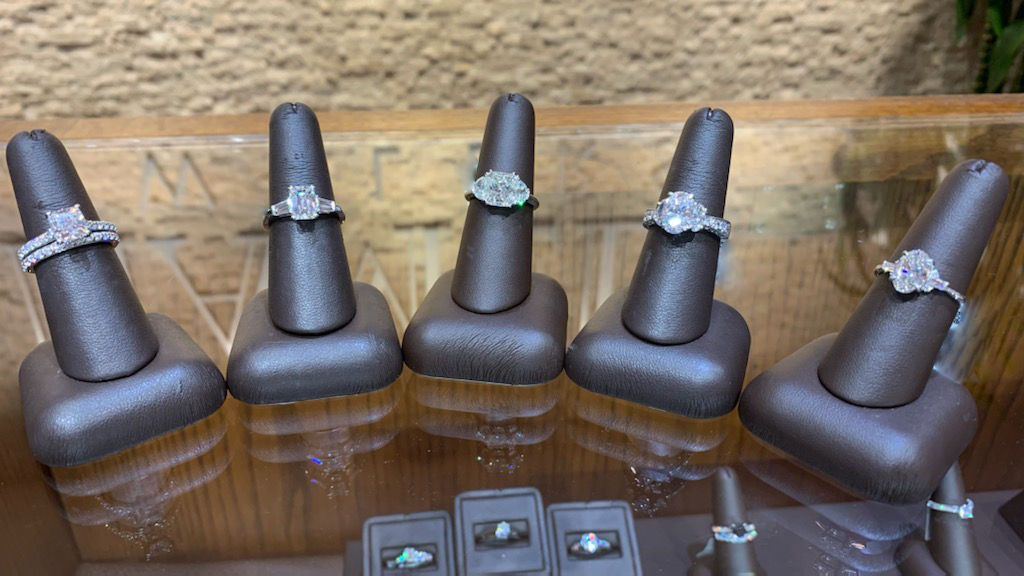 For centuries partners have been gifting one another engagement rings with their marriage proposals as a sign of their love and commitment. While certain details of the practice have changed over time, tradition largely remains. When asking for a hand in marriage it is custom to present a ring, usually set with a diamond, to be worn on the third finger of the left hand. Read more to learn about interesting engagement customs and engagement ring history!
It's believed that engagement rings originated in Ancient Egypt, where their shape symbolized eternity. They believed that only the third finger of the left hand had a vein that connected straight to the heart, so that's where the engagement ring was worn. However, scientifically, all fingers have veins that ultimately connect to the heart, not just the third left.
In Ancient Rome, women often wore two rings – a gold one to be worn outside and seen by everyone, and an iron one to wear at home.
Archduke Maximilian I of Austria was the first person to give a diamond engagement ring. In 1477, he proposed to Mary of Burgundy with a ring adorned with an M-shaped diamond.
Different countries have different engagement ring customs. In the U.S., engagement rings are typically worn on the left hand while in Russia and India, they are worn on the right.
Only about 35 percent of engagement rings are bought without the fiancée's knowledge.
The most popular engagement ring shape is a round brilliant cut diamond. Second place currently goes to princess cut diamonds.
Platinum was once the popular choice for wedding rings due in part to its durability. Then yellow gold took over for many years as the more affordable choice. More recently, white gold gained the upper hand in popularity, and platinum once again became more affordable. However, yellow gold has recently been making a strong comeback for engagement and wedding rings, and other diamond jewelry.
Until recently, engagement rings were chosen by men to be worn by women. Nowadays, it's not uncommon for the men to involve their partners in the selection process, or even wear "management" rings themselves!
"Diamond" originates from the Greek word "adamas," which means "hardest substance" or "hardest steel."
A staggering 2,000 couples get engaged at Disney World every year. The Statue of Liberty is another popular choice with about 100 couples taking the ferry there to get engaged.
Grace Kelly's diamond engagement ring is among the most expensive rings. Created by Cartier, the 10.48 carat emerald cut diamond ring was purchased in 1956 for $4 million and is now valued at $44.3 million.
Colorless diamonds are by far the most popular engagement ring stones, although colored diamonds have recently risen in popularity, most notably the fancy yellow.
Diamonds are the most durable gemstone, ranking 10 on the Mohs Scale, making them the most long-lasting choice of gemstone for engagement rings.
Even though diamonds are extremely tough, the rings in which they are set still require a bit of maintenance, so periodic professional exams are recommended to check prongs for wear.
14% of couples choose a gemstone other than diamond for their engagement ring, such as sapphire, ruby, or emerald.
Engagement Rings in San Diego
At Leo Hamel Fine Jewelers, we boast an incredible selection of wedding and engagement rings of all shapes and sizes. What's more, you can also share your design ideas with us and get a custom-made engagement ring that fits your personality perfectly. We are located on San Diego Avenue just off the 5 freeway, so don't hesitate to stop by. We'd love to help you find the perfect engagement ring to create the perfect memory.