Anyone interested in history, space flight, or watch making will want to hear the story of the Omega Speedmaster. A little-known specialty watch in the 1950's rose to fame as the watch of the astronauts. The Speedmaster sparked a top-secret development program with NASA. It is a symbol of the space race era that has endured and remains in use today. The watch has outlasted even the iconic Apollo rockets and space shuttles. This is a brief history of how it all began.
During the space program in the 1960's, NASA sought a chronograph watch that could withstand space flight. It would have to be very accurate even when exposed to different extreme environments that don't exist on Earth's surface. NASA didn't have its own development program for watches so it turned to the commercial sector to find a suitable piece.
The Omega Speedmaster seemed destined for fame. The first Speedmaster went into space on the arm of astronaut Wally Schirra in 1962. It was his personal model, and he wore it without any endorsement from NASA, as it was still several years before NASA had its own spaceflight certified watch. Between 1963 and 1964, NASA wanted to certify a watch for the Apollo missions and was open to many options. NASA directly reached out to several watch manufacturers to submit chronograph watches candidates for testing. Rolex, Hamilton, Lngines-Wittenauer and Omega submitted multiple models.
NASA Tests Omega, Rolex, & Hamilton Watches
Between October 1964 and March 1965 NASA subjected the candidate watches to these incredible tests:
High Temperature: 48 hours at 160°F followed by 30 minutes at 200°F
Low Temperature: 4 hours at 0°F
Temperature-Pressure: 15 cycles of heating to 160°F for 45 minutes, followed by cooling to 0°F for 45 minutes at 10-6 atmosphere
Relative Humidity: 240 hours at temperatures varying between 68°F and 160°F in a relative humidity of at least 95%
Oxygen Atmosphere: 48 hours in an atmosphere of 100% oxygen at a pressure of 0.35 atmosphere
Shock: Six shocks of 40 G, each 11 milliseconds in duration, in six different directions.
Acceleration: From 1 G to 7.25 G within 333 seconds, along an axis parallel to the longitudinal spacecraft axis
Decompression: 90 minutes in a vacuum of 10-6 atmosphere at a temperature of 160°F and 30 minutes at 200°F
High Pressure: 1.6 atmosphere for a minimum period of one hour
Vibration: Three cycles of 30 minutes of vibration varying from 5 to 2000 Hz
Acoustic Noise: 130 DB over a frequency range of 40 to 10,000 Hz, duration 30 minutes
Omega Speedmaster's Moon Landing
In the end, only one watch passed the tests: Omega Speedmaster. With that, the Speedmaster became NASA's official watch for space exploration. Each astronaut was equipped with one from that point on. Now here's a curious piece of history: the Omega company in Switzerland was unaware that their watch had been selected! This was because NASA procured the watches from the Omega USA subsidiary, which did not inform Omega headquarters of the project.
Omega headquarters only found out by seeing a news photograph of the Speedmaster on the arm of astronaut Ed White, during America's first space walk in June 1965 – almost a year after testing had begun! It was four years later that the Speedmaster cemented its fame. On July 20th, 1969, Neil Armstrong and Buzz Aldrin both wore an Omega Speedmaster as they walked on the moon. This was an unprecedented achievement for an off-the-shelf watch that had not at all been designed with space flight in mind. It remains part of the official gear issues to Nasa astronauts to this day, making it one of the longest continuous-use equipment items in the space program.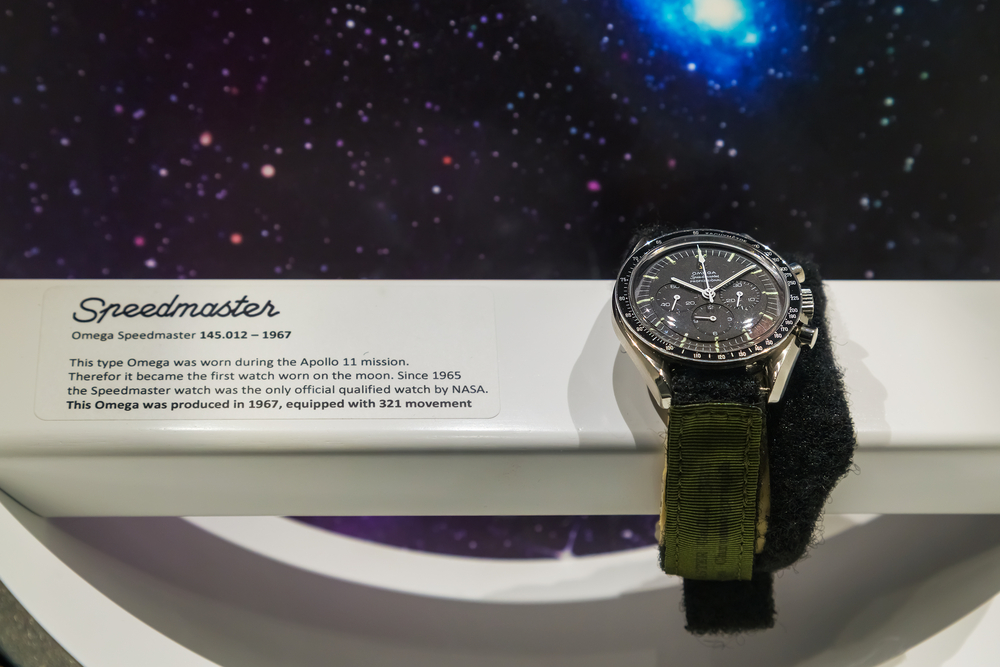 A few years after adopting the Speedmaster for space missions, NASA and Omega partnered to jointly develop a new version of the Speedmaster, designed from the ground up for space exploration. The project was undertaken in strict secrecy and code named The Alaska Project. The goal of the project was to make the perfect "space watch," one resistant to extreme temperatures and solar radiation. Function dictated every design decision, leading to first-time innovations in watch making, as well as interesting aesthetic results. The Alaska Project Speedmaster result looked very different from the original. It was distinguished by the oversized, red, anodized, aluminum casing (removable).
The low thermal conductivity of aluminum protexted the watch against extreme temperature fluctuations, high and low, whilethe red color protected against some wavelengths of solar radiation. The watch case itself was made from titanium – a first-time innovation in watch making. The dial color was changed from black to white, because the white golod reflected the maximum amount of solar radiation awar from the watch. Omega produced five Alaska Project prototypes by 1969, but by that time, priorities were changing in the space program. NASA decided the original Speedmaster was fulfilling its role as mission watch sufficiently well, so no Alaska Project Speedmasters were ever ordered into production.
Omega Speedmaster's Unique History
No other watch on Earth has such a unique history, nor had any watch endured such rigorous, independent testing of quality as the Speedmaster. The irony of the Omega Speedmaster is the original, Earth-designed Speedmaster was adapted for the most important space exploration missions in history, and it still NASA's official space flight watch, while the space-designed Speedmaster never left the ground.
Collector's today can find many versions of the Omega Speedmaster, from modern models to the vintage "pre-moon" version of the 1950's-1960's, including a limited collector's edition of the Alaska Project. Visit us today if you're in search of an out-of-this-world luxury watch!