Always the innovator, Rolex gained notoriety for their fashionable aesthetics and cutting-edge technology for wristwatches for both men and women. Considered the modern archetype of the classic watch, the Rolex Datejust masterfully combines visual appeal and high-end quality. Introduced the same year as their 40th anniversary (1945), the Rolex Datejust is the essence of the renowned brand.
The Datejust has spanned eras with numerous models. All of these include the unique features that make this specific Rolex so important to the company's history. The Datejust was the first self-winding wristwatch to dsplay the date on the dial of the watch. The automatic calendar feature advances to the next date right at midnight – the moniker, "Datejust."
The date is visible in a small window located at 3 o'clock on the dial. Originally, the Datejust had the venerable domed plastic watch crystal. In 1954, the versatile and high-quality watch was enhanced to include a magnifying cyclops eye on the watch crystal. This new element magnified the lens by 2.5 times to allow clearer visibility of the date. Eventually, a sapphire crystal replaced the entire plastic crystal, but that didn't happen until 1988.
Another quality feature of this official chronometer is the waterproof Oyster case. The invention of the oyster case in 1926 was a major milestone for Rolex. Before this innovation, waterproofing watch cases involved an outer case being snapped over the watch itself. Since Rolex watches were made with wandering adventurers in mind, the Oyster case made exploring all parts of the world that much more convenient. The Oyster case gets its name from natural oysters, implying that the case closes as tight as an oyster's shell. This ensures the watch's safety during expeditions.
To honor the new model and the company's 40th anniversary, Rolex created a new bracelet called the Jubilee. Initially, the Jubilee bracelet was only available with the 36mm Datejust, but due to its booming popularity, the bracelet was eventually made compatible with other Rolex models as well. Today, men and women watch enthusiasts can choose to equip their Datejust watches with the Jubilee bracelet, the Oyster bracelet, or a leather strap. All three options are suitable for every occasion and can be showcased with a variety of ensembles.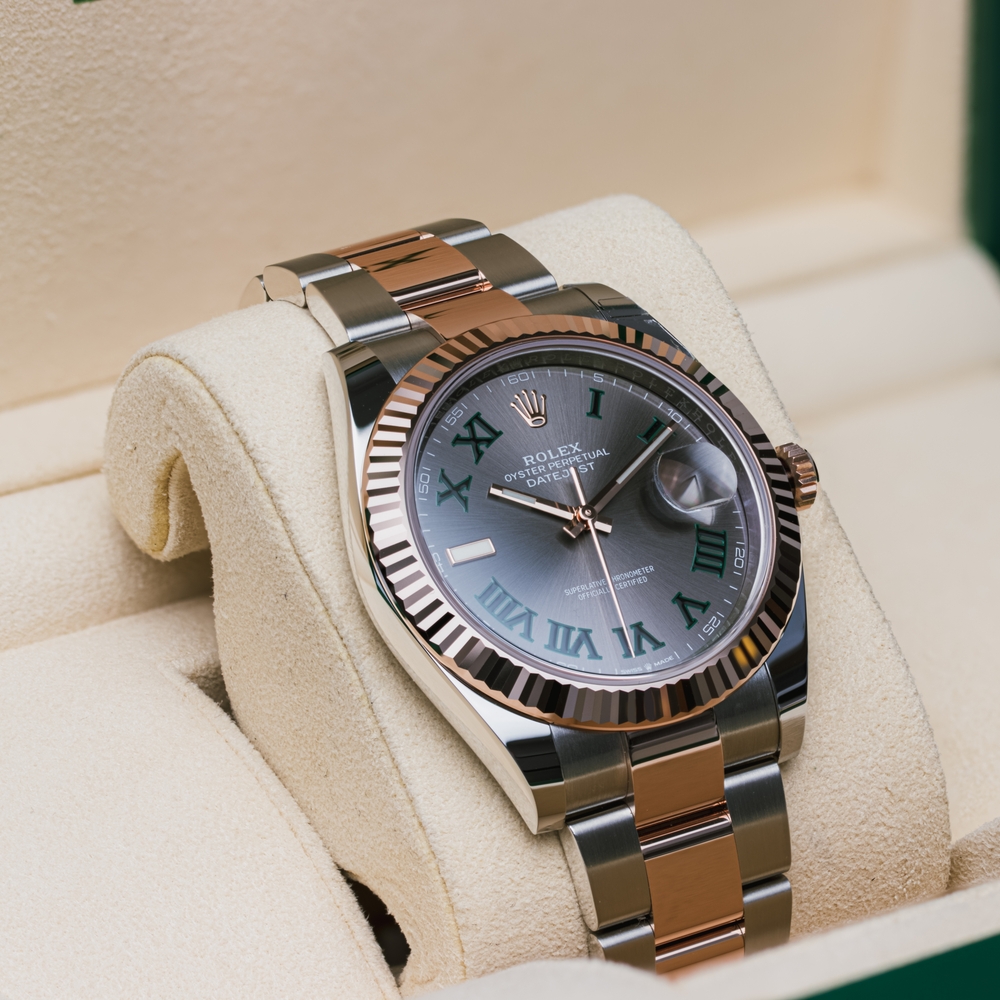 For over 50 years, the Datejust has remained one of the most recognizable and desirable Rolex models. The Rolex Datejust is available with an amazing variety of dials, bezels, bracelets, and sizes including both men's and women's styles. All Rolex watches in our showroom are pre-owned and can be anywhere from a few months to a few decades in age. All have been fully and expertly restored to their original, timeless splendor using only original Rolex parts, and come with a 2-year warranty. Don't waste any time – visit our showroom on San Diego Avenue today to discover a dapper Datejust to fit your style.