Having antique and vintage jewelry is like owning a piece of history. Holding and wearing pieces that are decades upon decades old can really make you think about their exquisiteness. Naturally, you want to preserve it for the future so that it gives you many years of enjoyment (and to your heir, should you pass it on). Whether it is an antique pearl ring that you cherish, a diamond necklace, or a gorgeous Tiffany bracelet, proper care and storage is the key to keeping its luster and glory.
Before you clean your jewelry, it's advisable that you inspect it with a magnifying glass or loupe. This way you might notice loose gemstones before they fall out and are potentially lost. Loose stones are also more sensitive when it comes to cleaning – they could come off completely. While inspecting a piece, you can find any lodged debris and accumulated dust. To remove these, you can use a soft toothbrush or make up brush to dust the piece off. Note that you should use the softest brush you can find, because some jewelry will scratch from too much brushing. If you find any especially stubborn particles, use a cotton swab dipped in cleaner.
Above all else, there are two pieces of advice you should take notice of. The first – never use abrasive products or cloths to clean jewelry. And the second – it's best to ask your jeweler how to clean your precious jewelry, namely, how to hold the pieces during cleaning, what products to use and what techniques to use and avoid. Choose an appropriate product. There are many jewelry cleaning products available. Check what types of cleaner are safe for which types of jewelry and ask your jeweler if in doubt. Every alternative to dedicated jewelry cleaners should be carefully considered, including an ultrasonic cleaner (absolutely not intended for pearl jewelry).
For example, diamonds, sapphires, and rubies, which are top precious gemstones, can take stronger cleaners because of their natural hardness. Diluted ammonia is a safe cleaner for these stones. However, ammonia would ruin most other jewelry, particularly organic (pearls, coral, turquoise) and soft materials. A few drops of mild dish soap in a bowl of warm water and a soft cloth will do, but remember to rinse well, pat dry, and polish the jewelry afterwards to avoid dulling its shine.
When it comes to pearls, a drop of olive oil on a soft lint-free cloth should do the job. Or you can use a cloth moistened with warm water as well. Interesting point: although pearls are sensitive to perfumes, make up and most oils, plain body oil which they acquire while you wear them will actually keep their luster.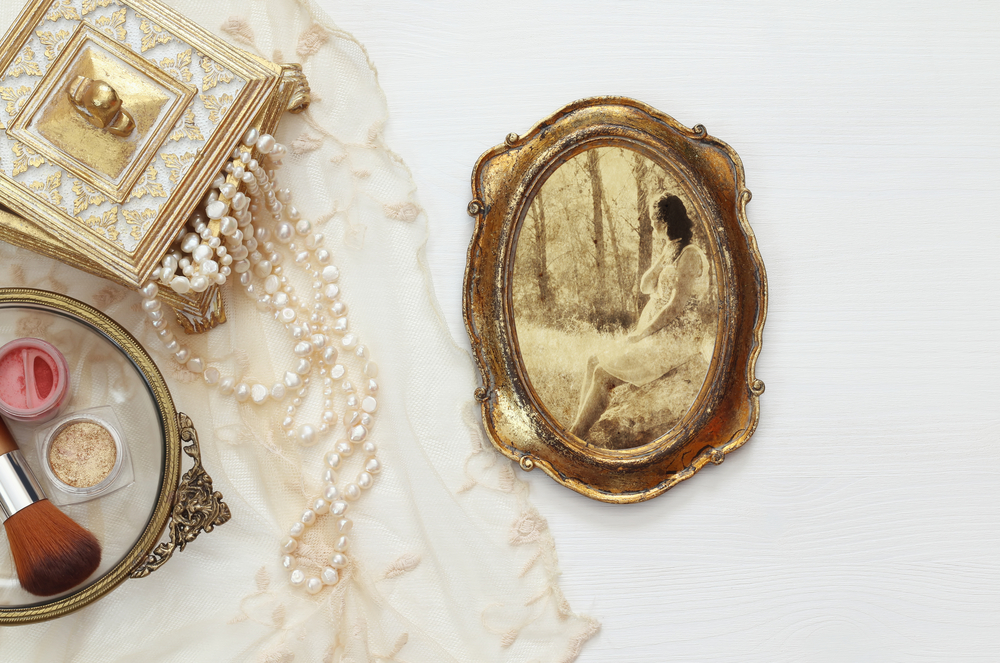 Immersing and Storing Your Jewelry
Think well before you immerse the jewelry. In many cases, soaking jewelry in water is not recommended when it comes to antique and vintage jewelry. Some antique jewelry has gemstones with a foil backing, which should NEVER be immersed. Pearls also shouldn't be immersed. If you have an antique pearl ring, the water could weaken the adhesive and compromise the mounting, and it's a pearl strand, the string could stretch, kink, and weaken. Clean as often as necessary. There are no particular guidelines about the frequency. Adjust the frequency of cleaning with how often you wear the piece.
If you clean and store the piece properly, there's no need to clean it too often. In other words, some antique and vintage jewelry requires caution and occasional wear, so no need to clean such jewelry on a schedule. Always dry the jewelry before you put it away. Moisture is the number one enemy of jewelry. Pat dry the pieces and leave them to air dry completely before storing them. If it's a piece with intricate design and setting, you may leave it to dry upside down so that any water trapped in the setting would drain.
There is no point in cleaning your jewelry if you don't store it properly. Improper storage damages jewelry easily. Never let jewelry come in contact with other jewelry. Set necklaces and bracelets down carefully so that no parts are in contact with other parts. Gold is soft and easily scratched, and gemstones can scratch other gemstones. And let's reiterate again, because it cannot be stressed enough – make sure your jewelry is dry before you put it away.
One moist piece in a jewelry box could also ruin many other pieces. You can use original boxes or pouches to store the pieces separately from each other. If you don't like the fact that these aren't see-through you can make small labels with photographs. You can also wrap your jewelry items in pieces of cloth. If you want to be able to see your collection instantly, you can use Ziploc bags or you can make glass boxes from top-loading floating frames, with some cotton batting and decorative fabric inside.
Leo Hamel Fine Jewelers is the go-to place to buy jewelry and watches for residents of San Diego and surrounding areas. Visit our website for a preview of what's available in our luxurious showroom on San Diego Avenue. Sign up for our eblasts to get first dibs on special sales and discounts! And come visit us whenever you need new and like-new jewelry of the finest quality and white an enduring statement.