Bring in your watch– We'll discuss what's in disrepair and how it can be fixed.
Get a free estimate– you won't be surprised by any hidden fees or charges.
Pick up your watch– your trusty timepiece will work and look like new again.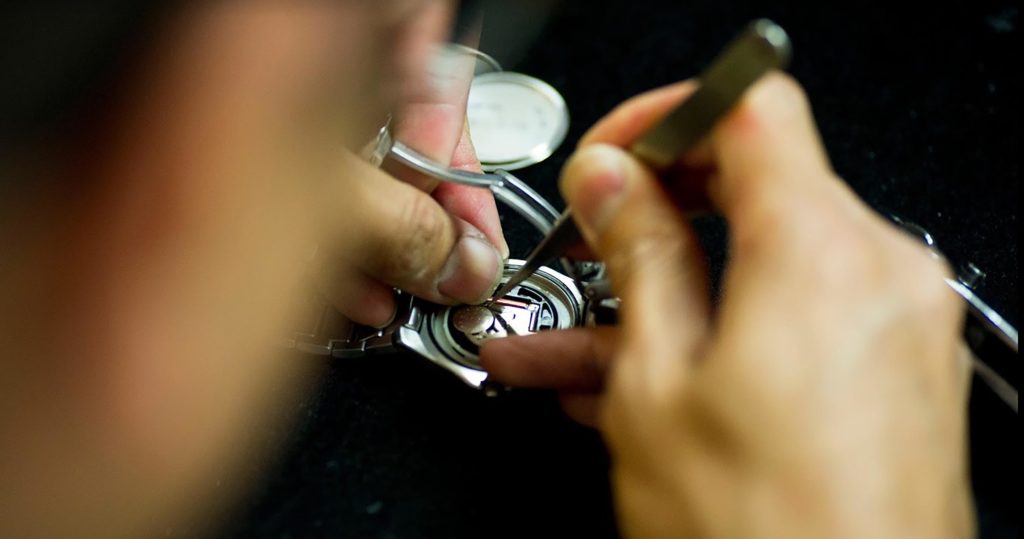 Luxury watches are built to last a lifetime, but sometimes accidents happen that cause your precious timepiece to become damaged or broken. Lucky for you, the watch repair experts at Leo Hamel's can fix almost any fine watch!
Has your watch stopped working? If it's a quartz watch, you probably just need a new watch battery. If it's an automatic watch you haven't worn for a while, it most likely just needs to be wound. If there is a more serious issue, our experts will examine your watch and let you know the best course of action for repair.
Is your crystal scratched or shattered? We can replace it for you. Did the water resistant seal on your watch break or become loose? We'll perform a pressure test to figure out exactly where the leak is coming from. Does your watch require a thorough cleaning and polishing? Leave your watch with us and we'll have it looking like new in no time. Or perhaps you just need some help adjusting the time and date on your watch. Our friendly experts can show you the proper way to do this so you don't accidentally damage your watch.
Whether it's a simple fix or one that will require more time and effort, you can count on us to repair your prized possession to like-new condition.
Expert Watch Repair Service in San Diego
Our on-site Swiss-trained Master Watchmakers specialize in the following:
Free watch repair estimates

Warranty on all watch repairs

Automatic watch repairs

Quartz watch repairs

Authentic parts

Watch battery repairs

Watch servicing

Watch cleaning & polishing

Watch refinishing

Watch straps

Crown & stem repairs

Resealing & water testing

Sealing & repair of dive watches

Complete watch overhaul

And more!
We specialize in the repair of almost any fine watch. Popular brands our knowledgeable experts have repaired include:
●Rolex ●Omega ●Patek Philippe ●Hamilton ●IWC ●Breitling ●Hublot ●Cartier ●Tag Heuer ●Audemars Piguet ●Panerai ●Tissot ●Victorinox ●Ball ●Ulysse Nardin ●Plus many other Swiss or German watch repairs
No matter the brand, your fine watch will require some tender love and care from time to time. That's when you should come to Leo Hamel Fine Jewelers- the leading experts in fine watch repair San Diego.