Bring in your jewelry– we'll discuss what's in disrepair and how you'd like it fixed.
Get a free estimate– you won't be surprised by any hidden fees or charges.
Pick up your jewelry– your treasures will sparkle and shine like new again.
As San Diego's best jeweler we completely understand the desire to wear your treasured pieces every day. But with every day wear comes normal wear and tear. Oftentimes, when jewelry becomes damaged or broken people tend to set it aside. Instead of getting rid of your older pieces or purchasing new ones, why not opt for jewelry repair in San Diego? If your jewelry is in disrepair, stop by Leo Hamel Fine Jewelers on San Diego Avenue for all of your repair needs.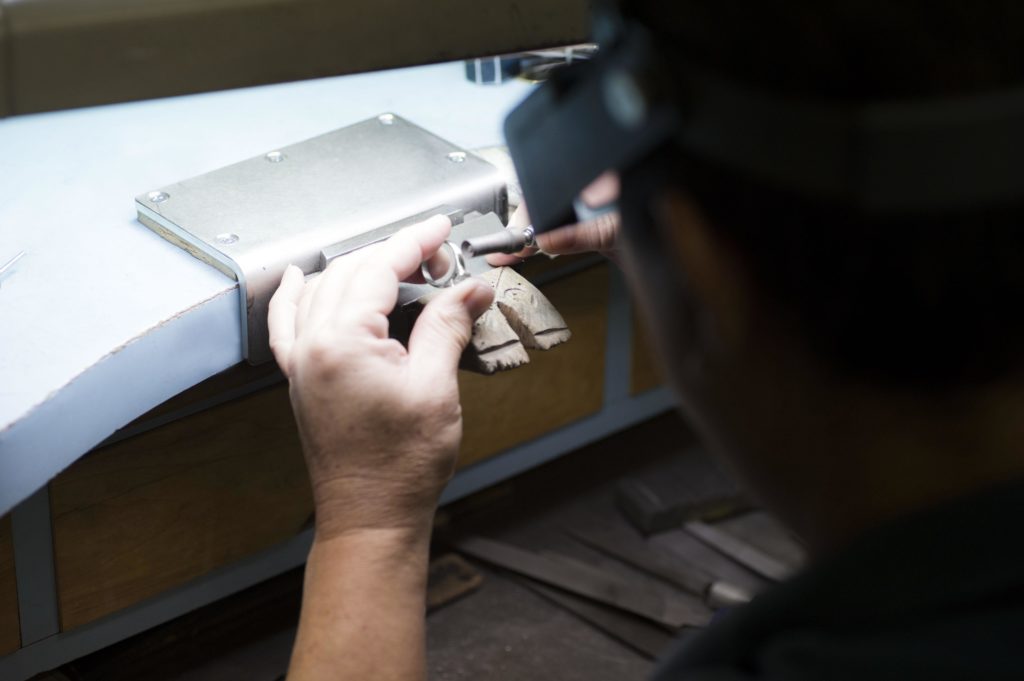 Jewelry Repair & Restoration in San Diego
At Leo Hamel's, our highly trained jewelers in our repair department have over 100 years of combined experience repairing fine jewelry. Our goal is to make sure you enjoy your jewelry for many years to come. Whether you have loose gemstones that need to be secured, broken necklace chains and clasps, or you'd like a completely new design for an antique family heirloom, contact us for a free estimate. From simple cleanings to complete jewelry restoration, we can do it all! Leo Hamel Fine Jewelers offers free fine jewelry cleaning and inspection every day- no appointment is necessary. It's amazing what a good cleaning and polishing can do, and sometimes that's all your jewelry needs to be brought back to life.
Most local jewelry stores outsource their repairs and don't have Master Jewelers on-staff. Since we're not like most jewelry stores, it's the exact opposite at Leo Hamel's. We have an entire department dedicated to jewelry repair and restoration. If you need jewelry repaired or restored, you can trust we'll take care of your valuables as if they were our own. All repairs are handled in-house at our San Diego Avenue location, meaning the cost will be less expensive compared to other outsourced repairs. It will also take less time for you to get your jewelry back to wear again. Some repairs can even be handled the same day or within 24 hours! Come in for a free estimate today!
Our team of GIA-trained Master Jewelers and Graduate Gemologists specialize in the following:
Ring sizing (resizing)

Diamond and precious gemstones

Prong re-tipping

Platinum, gold, and silver repairs

Chain repair and soldering

Stone setting

Tighten loose stones

Clean jewelry

Polish jewelry

Rhodium plate

Clasp replacement

Pearl restringing

Custom jewelry

And more!
*We offer a one-year warranty on all jewelry repairs, unless otherwise stated on your invoice. See backside of invoice. Damages by wearer are not covered by warranty.