Congratulations! Since you've wound up on this page, it's safe to assume you are getting ready to pop the big question. How exciting! Buying an engagement ring is one of the biggest decisions you will make throughout your entire life. Your nerves are building up and you feel the pressure of picking your loved one's dream ring. Don't let those jitters get the best of you while browsing the plethora of engagement rings in Chula Vista- we're here to help!
Finding the perfect ring starts here
When it comes to engagement rings, the possibilities are truly endless. From beautiful platinum, white gold, yellow gold, and rose gold settings to radiating diamonds and gemstones in every shape imaginable, we have it all here at Leo Hamel Fine Jewelers. Our prices are the best in Chula Vista, and our customer service is unparalleled. Our experts are here to help you every step of the way, ensuring your hunt for the perfect engagement ring is nothing short of spectacular.
So, what engagement ring style are you looking to wow your special someone with?
Solitaire Engagement Rings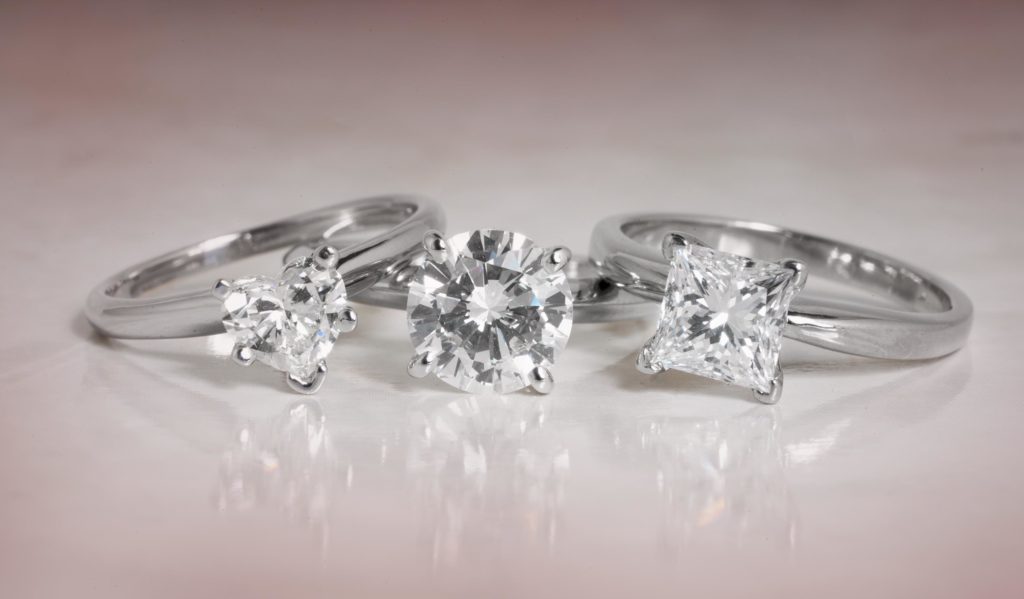 The epitome of a classic engagement ring, solitaire rings allow a diamond to sparkle brilliantly all on its own. The diamond draws all of the attention, delicately perched atop a smooth band, creating a look of timeless elegance.
Halo Rings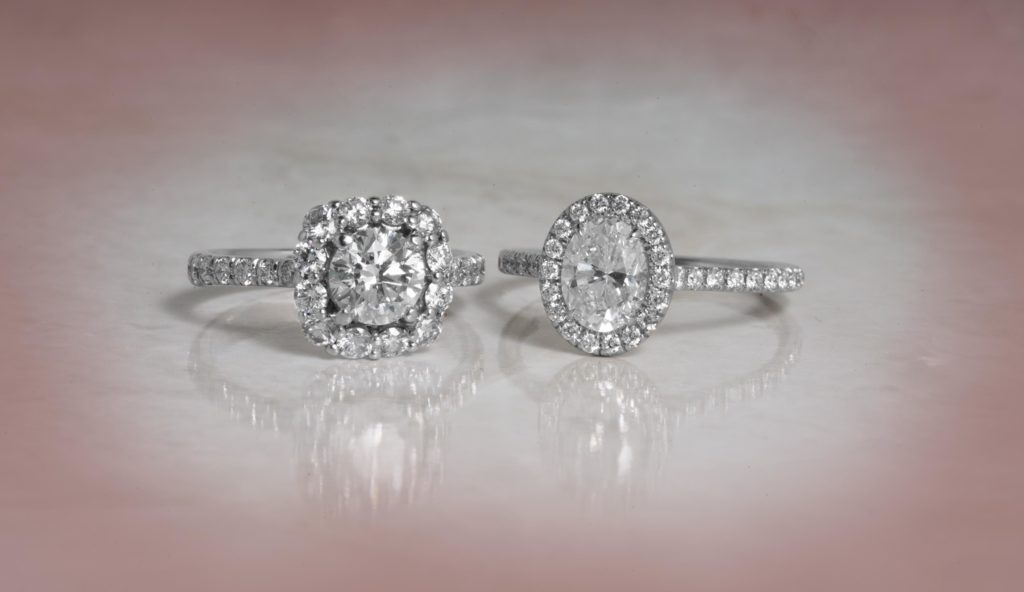 One of the more popular engagement ring styles, halo rings are truly breathtaking. Featuring a center diamond or gemstone encompassed by smaller diamond accents, halos create a look of ultimate sparkle and brilliance. An added bonus? The diamond halo has the ability to make your center stone appear larger than it actually is!
Three-Stone Engagement Rings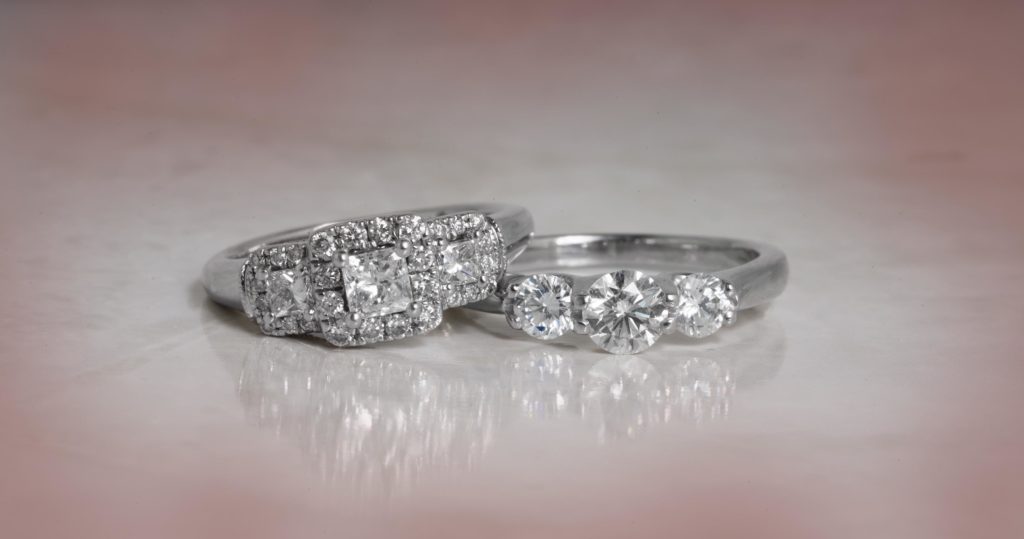 Three-stone rings are as sentimental as they are beautiful. Signifying a couple's past, present, and future together, the traditional appeal of this style is heightened by its romantic underlying message.
Antique & Vintage Rings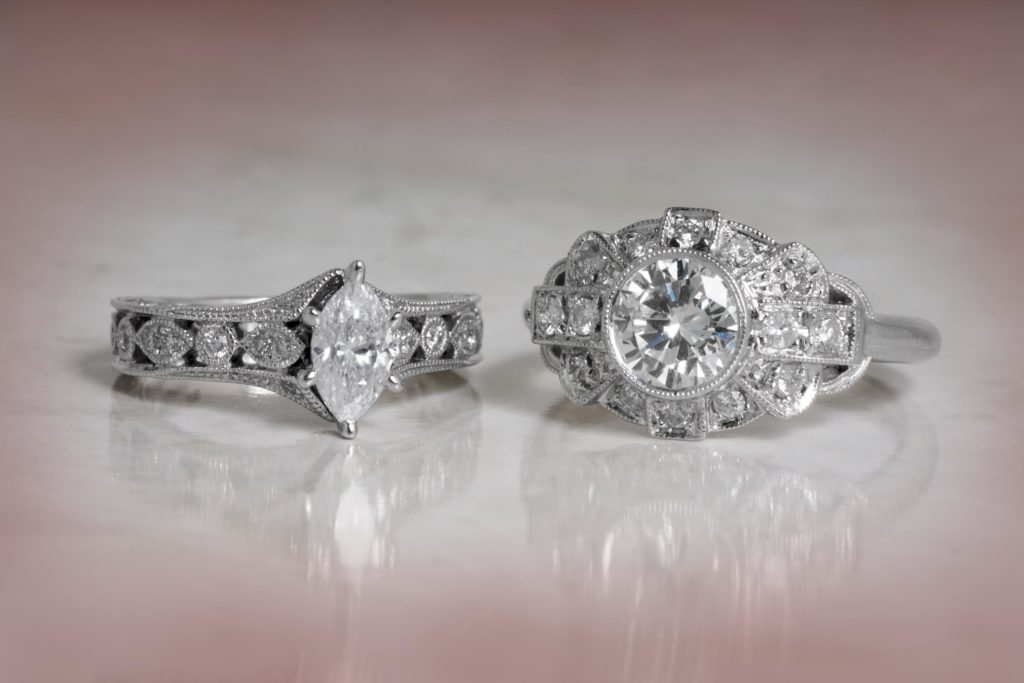 Drawing on the distinct beauty of past decades, these rings are truly one-of-a-kind. Our collection of antique and vintage engagement rings features designs from the Victorian era, the Edwardian era, the Art Deco period, and many others.
Side-stone Accents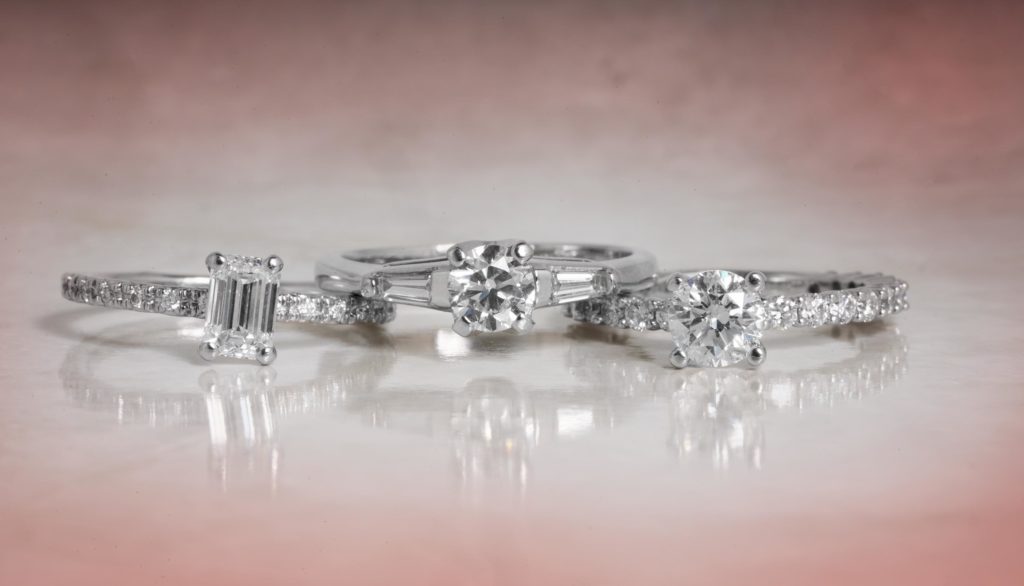 If you love sparkle and shine, adding diamond side-stones to your engagement ring is the perfect design. Whether pavé, channel set, or set on the band itself, side-stones are the perfect way to enhance the brilliance of your center stone.
Custom Design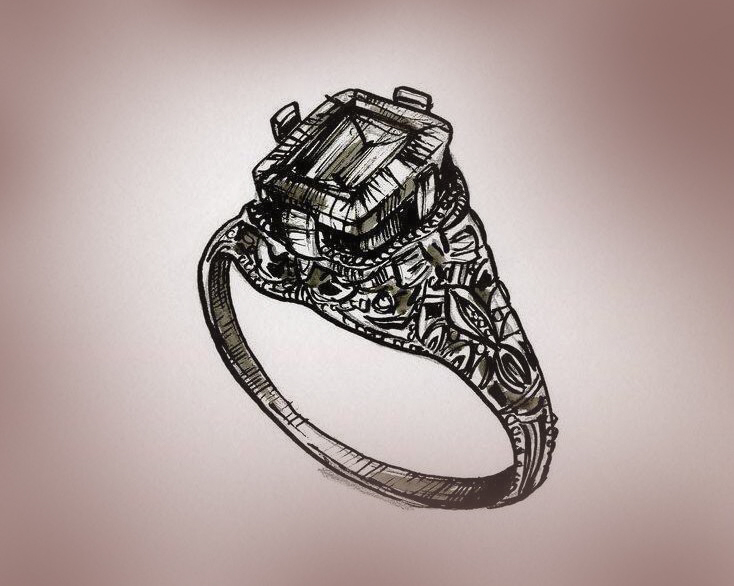 Do you have a vision for your dream engagement ring that you just can't find in stores? Our Master Jewelers can make your dreams a reality. Our talented jewelry artisans skillfully unite the best of old-world craftsmanship with state-of-the-art Computer Aided Design, creating a ring that is both artistically stunning and scientifically precise.
Best Engagement Rings in Chula Vista
If you're on the hunt for an engagement ring in the Chula Vista area, you have to stop by Leo Hamel Fine Jewelers on San Diego Avenue. From new engagement rings to vintage engagement rings to designer engagement rings, we truly do have it all. Our friendly experts are here to help you find the perfect ring at a price that is right for you.
Choosing an engagement ring can be very intimidating, but we're here to help make the process as smooth as possible. Simply give us an idea of what you're looking for and we'll help you find it. We'll also teach you about the 4Cs of a diamond to ensure you choose a ring that is perfect for your style preference and budget.
Diamond Cut
Diamond cut refers to how a diamond interacts with light. Professional diamond cutters spend countless hours meticulously cutting diamonds so that their facets reflect light in a specific way, creating maximum brilliance. The better the cut of a diamond, the more brilliance it will have, and the more expensive it will be.
Color
The color of a diamond is measured on a scale that ranges from the absence of color in the body of the stone to noticeable color (typically yellow or brown). Colorless diamonds are the most valuable since they are rare, and produce the most sparkle, but diamonds with slight color sparkle too! Diamonds are graded on a scale from D to Z, but the differences between each grade are incredibly difficult to spot to the untrained eye. The less color in the diamond, the whiter the diamond appears. The further down the scale (from N to Z), the more yellow the diamond appears.
Diamond Clarity
Diamond clarity refers to the appearance of inclusions and blemishes in a diamond. Internal characteristic flaws are referred to as inclusions while external flaws are called blemishes. These imperfections are completely natural. While diamond clarity affects the overall appearance of a diamond, many inclusions and blemishes don't have a negative effect because they are unnoticeable to the naked eye.
Carat Weight
Diamonds are measured in carat weight. Visually, there may be very little difference between a 0.95 carat diamond and one that weighs a full carat, but the price difference between the two can be significant!
For unbeatable prices on the highest quality engagement rings in Chula Vista, come to Leo Hamel Fine Jewelers. We've served the Chula Vista area for nearly 40 years- let us help you next.